Narrow Aisle, Inc and the Flexi featured in Forklift Action News
3/14/14 – Narrow Aisle, Inc. has announced that it will introduce an AC powered, broader range, of its Flexi articulating VNA forklifts at the upcoming MODEX Show in Atlanta, GA, March 17-20, 2014.  Narrow Aisle owns the exclusive manufacturing and marketing rights to the Flexi in the Americas, North, Central & South.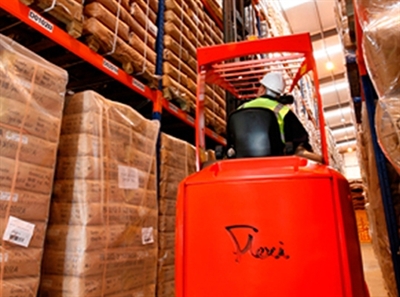 The current Flexi G4 series will be re-introduced with AC power and marketed as the Flexi AC.  Seven new models will be introduced ranging from a smaller capacity unit, the Flexi VNA AC, which will work in aisles as narrow as 6', to a larger capacity HiMax AC 1350 with maximum fork heights in excess of 500″ that will work in aisles as narrow as 7'
Successful negotiations were held in Dallas in October between Warren Cornil, President of Narrow Aisle, Inc, and John Maguire, Director of Narrow Aisle, Ltd.  The new models being introduced will mirror the current offerings of Narrow Aisle, Ltd. from the UK. 
In a joint statement, Cornil and Maguire commented, "Our companies have worked closely together since the year 2001.  This improved collaboration will harmonize the Flexi globally, and enable us to jointly bring state of the art products to a wider market, which improve market share everywhere."
Cornil said further, "We have already received orders from some of our dealers for the new AC powered Flexi.  The new models will be available as early as February, but the official introduction will be at MODEX.  In conjunction with the Show, a meeting of Flexi dealers in the Americas will be held on Tuesday, 18 March, 2014.  Please come see the new Flexi in Booth #7628 at the Show."
View the original article here at Forklift Action News.